Dust Collector Manufacturers
Our company needs no introduction as a manufacture & supplier of dust collector. Famous and trusted a brand, we are one of the leading manufacturers/suppliers for the dust collectors under the brand- Dust Bag. The material used is a non-woven polyester fabric which acts as a source for the dust filtration. It even has antistatic features. The dust bag, unlike our other products, doesn't work on the concept of an electrostatic filtration for example Fume Killers. On the contrary, it makes use of the traditional mechanical filter media. They come in with a suction capacity ranging between 425 CMH- 9000 CMH.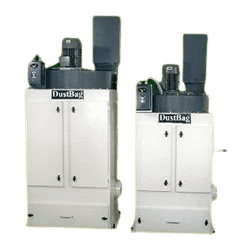 Re-usable

Safe & Secure
Low Maintenance

Eco Friendly
Factory Support
All the dust generated from sources like tool & cutter grinder/ cast iron machining/buffing/ de-burring & similar operations and even chip extraction is easily removed from this product. They can even be fitted with self balanced extractor arms of different lengths. This adds flexibility to capture & remove all the dust from the above mentioned dust generating sources. Dust Collectors are even useful for places where there is huge amount of dust plowing in.